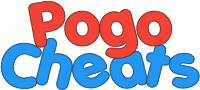 Legal Disclaimer
This entire website is © 2003 - 2023 PogoCheats.net
PogoCheats.net is not affiliated with Electronic Arts Inc., or its licensors. Pogo game content and materials copyright Electronic Arts Inc. and its licensors. Trademarks are the property of their respective owners.
All Rights Reserved.
We recognize that certain words, names, and designations mentioned on this web site are the property of the trademark holder. We use them for identification purposes only. The following trademarks are acknowledged:
Pogo™, Ali Baba Slots™, Big Shot Roulette™, Claire Hart™: Soul Searcher, Pogo™ Addiction Solitaire, Pogo™ Bowl, Pogo™ Sudoku, PoppaZoppa™, Poppit!™, Turbo 21™, Word Whomp™, Word Whomp™ Whackdown and WordJong™ are all registered trademarks of Electronic Arts, Inc.
Pogocheats Forum : It's impossible for the staff or the owners of this site to confirm the validity of posts. Please remember that we do not actively monitor the posted messages, and as such, are not responsible for the content contained within.